Jobs
These are the job openings in the region that we have been made aware of. Please contact the offering organization for more detials.
The Syracuse University Libraries are seeking to hire a Librarian for the School of Education. The Librarian serves as a subject specialist and reference librarian for the School of Education, ensuring that SU Libraries services and collections support the academic and research needs of the School of Education's students and faculty. The Librarian provides essential services, including research assistance, information literacy instruction, and development of the Libraries collections.
Complete job listing at: https://www.sujobopps.com/postings/73337
Post expires on Monday March 12th, 2018
Job Description:
Clinton Community College, a member of the State University of New York, is a progressive community college with a stunning location on the shores of Lake Champlain. The College plays a unique role in the local community and within the state by offering traditional and nontraditional students access to a variety of educational programs.
The Librarian/Systems and Electronic Services reports directly to the Library Director and is responsible for the management and maintenance of the library's public resources and integrated systems.  The incumbent will also manage library's public presence through its electronic resources and website content. This is a twelve-month, tenure-track, professional position.
RESPONSIBILITIES:
Responsible for local administration of integrated library system: installs clients; edits configuration tables; implements upgrades and enhancements; troubleshoots and reports problems; develops custom reports; trains staff in use of modules, patron loads, reports, services and other components; and keeps current with new innovations.
Manages the library's public resources including the electronic databases, link resolver, discovery service, streaming media, LibGuides research guides, and other library systems and applications such as EZ Proxy.
Maintains library's website content and social media including Facebook, Twitter, Instagram and blogs.
Oversees collection development, acquisitions, cataloging, processing, and maintenance of bibliographic database; provides support and training for technical services processes including online vendor services such as OCLC Connexion client
Identifies, evaluates and selects electronic resources, and promotes through instruction and reference service.
Collects and reviews monthly usage statistics with regard to cost and role in library's mission to support teaching and learning
Participates in library planning, policy-making, and goal-setting and development of new services and initiatives.
Participates in staff meetings, college committees and professional development.
Other duties as assigned.
Some evenings and weekends are required.
QUALIFICATIONS: 
Graduate degree from ALA-accredited library and information science program.
Demonstrated experience in managing integrated library systems and other library applications.
Experience in managing electronic resources and web development.
Preferred Qualifications:
Experience with Ex Libris library management systems, EBSCO Discovery Service, LibGuides, and other research tools.
Experience working in an academic library.
Experience with design and implementation of web pages, including an understanding of HTML.
Knowledge of bibliographic and metadata tools (AACR2R, MARC21, OCLC, Dublin Core) and ability to perform original and copy cataloging.
Knowledge, Skills, and Abilities:  
Strong analytical, organizational, communication and interpersonal skills.
Commitment to customer service and working in a collaborative environment.
Ability to work independently, managing a complex workload effectively with minimum supervision.
Ability to work in a continuously changing environment and affinity for new technology.
Flexibility in work schedule and duties.
Commitment to professional growth and development.
How to apply:
Although the search will remain open until the position is filled, for full consideration, candidates should submit materials by January 26, 2018, including letter of application, resume, a CCC application form (available at www.clinton.edu), and unofficial transcripts to:
Clinton Community College
136 Clinton Point Drive
Plattsburgh, New York, 12901
Clinton Community College is an Affirmative Action / Equal Opportunity Employer. Qualified women, minorities, individuals with disabilities, protected veterans and others who would enrich the diversity of the College are encouraged to apply. If you require an accommodation so that you may participate in the selection process, please notify us using our office directory or calling (518) 562-4137.
Post expires on Thursday February 22nd, 2018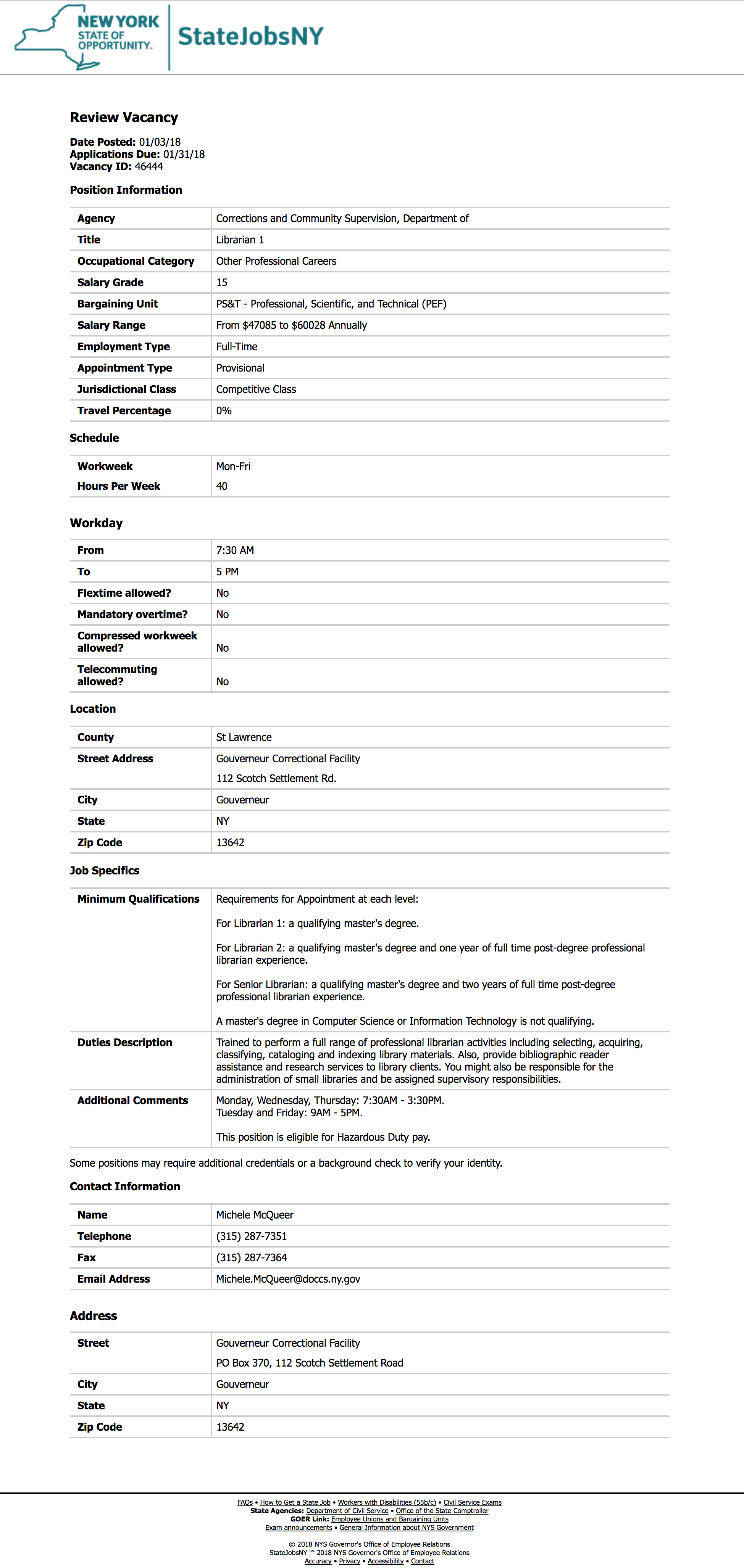 Post expires on Thursday February 1st, 2018