Upcoming Continuing Education Classes
These are webinar and traditional classes offered by the Network and other members of Empire State Library Network. Please see each class description for more information about class location and registration.
Jun 2018
Jun 22 2018 : Preparing for the Unknown: Creating a Library Safety and Preparedness Team with Ben Hogben – Northern New York Library Network Office

The world in which we live and work has changed. It is important to be aware of our surroundings and prepare for unexpected events. This workshop will focus on creating a Library Safety and Preparedness Team. Also included will be the types of emergencies that may face libraries, patron behavior and the importance of preplanning for emergencies. Light refreshments and lunch included – please register below.
__________________________
About the presenter: Ben Hogben is the Access Services Manager for the Ithaca College Library where he supervises thirty-eight student employees and four full-time staff members. Ben has a BA from Ithaca College and training that includes employee and student coaching, and MBTI certification. Ben spent twenty-five years in the volunteer fire service, where he held the positions of Fire Chief, Deputy Fire Chief, and Training Officer.
Jul 2018
Jul 24 2018 : Library Space Planning with Alex Cohen – Paul Smith's College
The library planning workshop allows public library supporters, librarians, educators, and architects to share in best practices in planning and design.  The workshop will assist in the development of library spaces for public libraries and other research organizations. Breakfast and lunch included.
Segment 1: Workshop Introduction

The library can be seen as a physical and virtual learning environment, a network that in development faces six primary challenges:

User

Collection

Staff

Technology

Facilities

Funding

Each of these 6 challenges offers a potential for growth and change as they relate to each other. During this workshop, we will address a series of real case studies to illustrate how to develop a Needs Assessment and Service Strategies Program.  Participants will learn how to develop a set of service priorities concept(s). This segment will be instrumental in outlining the tasks and skills required to properly program the library for future use.
Other Segments include:
Segment 2: User Behavior and Needs Assessment

Segment 3: Services, Collections, and Technology

Segment 4: Building Program, Library Standards, Future Needs

Segment 4: Public Library Program Examples and Library Space Planning Case Studies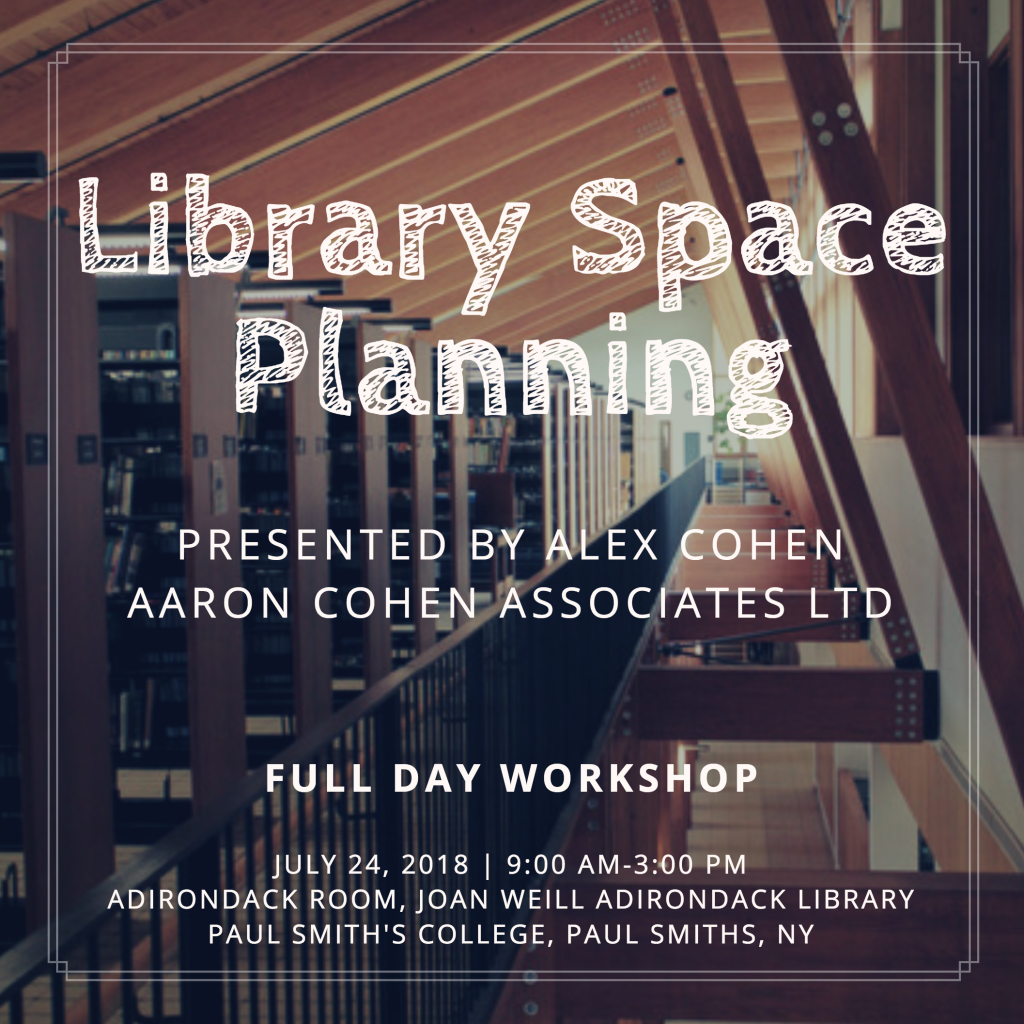 About the Presenter:

Alexander Cohen, MLS
As a Librarian and Principal at Aaron Cohen Associates (ACA), Alex Cohen heads a library-consulting firm with over 45 years of experience working with all types of libraries and research environments. His expertise includes digital asset management; space-planning assessments; service analysis; efficiency studies; needs assessments; special collection/archives planning; new builds and renovations of existing libraries; system planning and worldwide library consulting.
Alex's goal is to ensure that user needs are better met, through service innovations and changes to functions, collections and physical space. As a consultant, he works with existing library staff to understand the way they are doing things now, listen to their aspirations for the future, and provide expert evaluation, critique, and recommendations of how to achieve those aspirations. The outcome of his work then informs the interior design of the space.
Alex has worked with a variety of libraries, both large and small. His past clients include Stanford University; the Smithsonian Museum; the Woodstock Public Library; and the National Library of Greece. He is currently at work on the new Central Library in Dubai.
Experience:
2000-2018 – Library Consultant Aaron Cohen Associates, LTD, NY
1998-2000 – USWeb/CKS, Global London & San Francisco
1997-1998 – IS Solutions, UK
1995-1997 – Red Dot Interactive, SF
Aaron Cohen Associates LTD (ACA) is a library service planning and architectural consulting firm that has been in business for over 46 years.
---
This event is free for all NNYLN and ESLN members and affiliates of members.
NNYLN is a member of the Empire State Library Network (ESLN).
Aug 2018
Aug 10 2018 : What the Health? Information Resources for Librarians – Northern New York Library Network Office
Activate, Collaborate, and Educate: Health Outreach and Programming in Your Community (10:00 AM – 11:30 AM)
This course will provide an overview of ideas to conduct health outreach and create health programs for libraries and community/faith-based organizations. Participants will learn how to integrate resources from the National Library of Medicine (NLM) and other reputable agencies to introduce community members to NLM resources in fun and engaging ways. Examples of programs for children, teens, adults, and seniors using NLM and other National Institutes of Health center and office resources will be shared.
This presentation provides an overview of planning health programs for organizations incorporating resources from the National Library of Medicine.
By the end of the session participants will be able to:
Locate county-level information on health needs within their community
Locate relevant NLM consumer health resources for specific target populations
Identify organizations for health outreach partnerships
Outline a potential health outreach or health program for their organization
PubMed and Beyond: Clinical Resources from the National Library of Medicine (12:00 PM – 1:30 PM)
Taught by an experienced medical librarian, this presentation will introduce principles of evidence-based practice and free health information resources for all librarians. Resources presented will include Clinical Queries in PubMed and free drug, patient education, and evidence-based information from the National Library of Medicine.
By the end of the session participants will be able to:
Find patient education information using MedlinePlus and Genetics Home Reference
Access drug information using Drug Information Portal
Find clinical trials by condition and limit to those with results in ClinicalTrials.gov
Find clinical practice guidelines
Find systematic reviews in PubMed Health and PubMed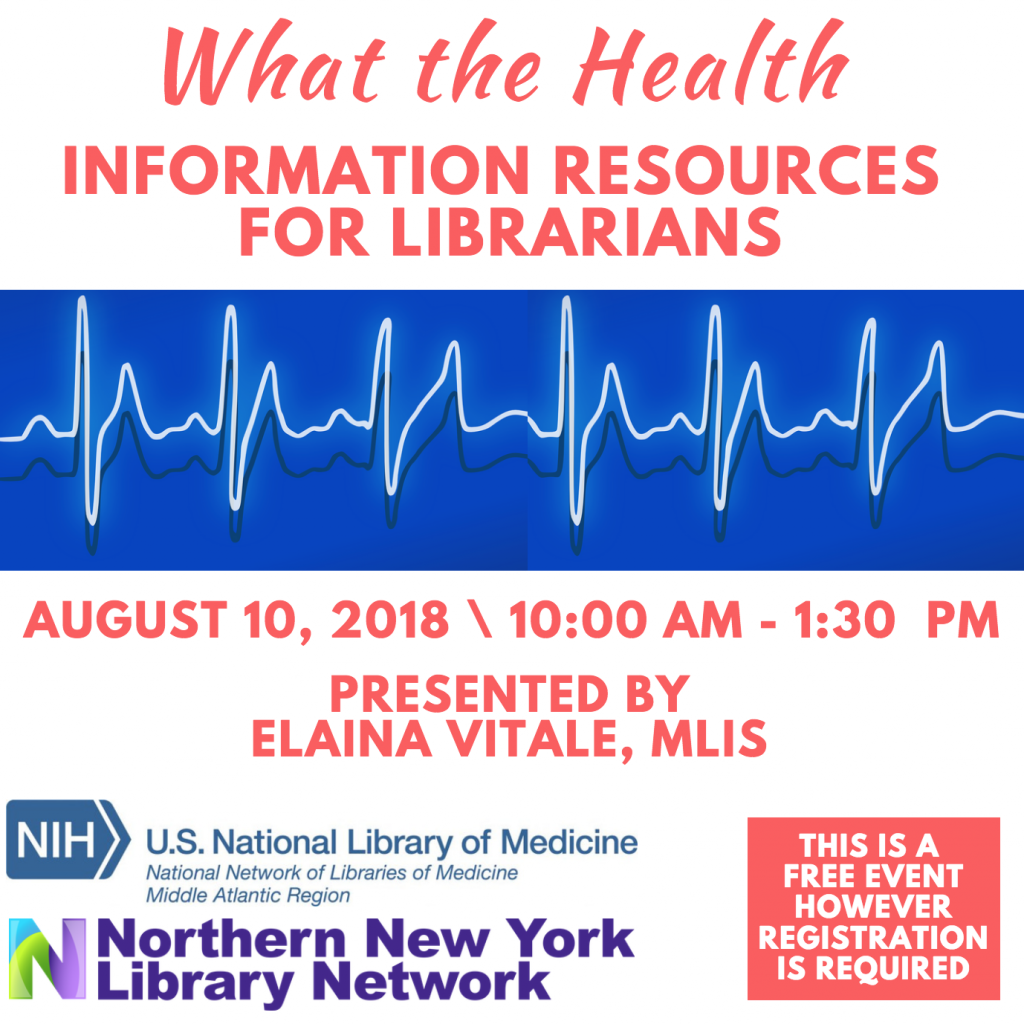 About the speaker:
Elaina Vitale, MLIS, is the Academic Coordinator for the National Network of Libraries of Medicine, Middle Atlantic Region. Based in Pittsburgh, PA, Elaina provides outreach, training, and support for academic and health sciences librarians in DE, NJ, NY, and PA. Elaina is particularly interested in community outreach, health programming, and citizen science.
This is a free event, however, we do require registration.
Refreshments and lunch will be provided.
Archived Presentations
Please click here to view presentations from previous classes.