Upcoming Continuing Education Classes
These are webinar and traditional classes offered by the Network and other members of Empire State Library Network. Please see each class description for more information about class location and registration.
Jan 2018
Jan 16 2018 Continuing Education, Webinar: NewsBank Webinar - NNYLN Viewing Party – Northern New York Library Network Office
Join us for an information session about our newspaper database NewsBank which provides access to the Watertown Daily Times and the Plattsburgh Press Republican.
View the webinar remotely or attend the viewing party at the NNYLN office in Potsdam, NY.
To participate, you will need to have access to a computer and phone. Prior to the event, you will receive an email with a GoToMeeting link and conference number.
Feb 2018
Feb 15 2018 : (Webinar) Funding Campaigns for Small & Midsize Rural Libraries –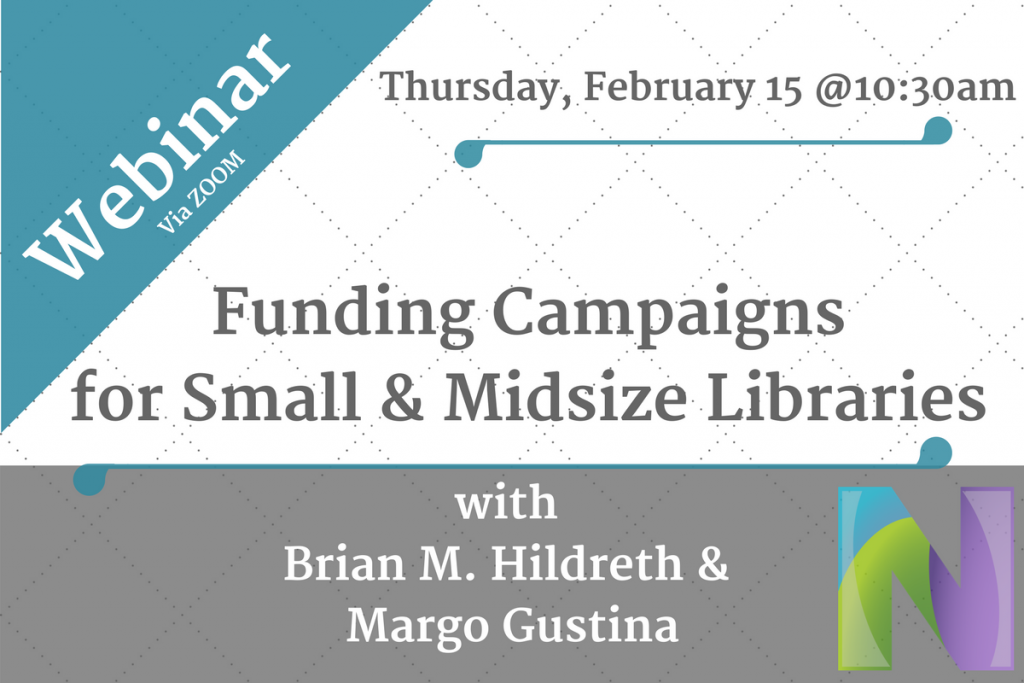 Program Description: Small and midsize rural libraries are wholly underfunded. Most operate on an annual budget of less than $100,000. The more rural the library, the less capacity it has to secure sustainable and supplemental resources. This program will offer a step-by-step approach to working with your library system to improve library services by leveraging stable funding within your rural community.
This webinar will be presented via Zoom – after registering, you will receive a link to view the presentation.
Presenter Bios:
Brian M. Hildreth, executive director of Southern Tier Library System, has been working on funding campaigns for the last thirteen years as a library and system director. Since 2013, he and co-presenter Margo Gustina, have assisted 17 local libraries to secure funding increases ranging from 25% to 261%, with an average voter approval rating of 68%. His overall scope of librarianship has focused on supporting directors and trustees on developing rural libraries for educational, cultural, technological and economic betterment. He is a 2010 NYLA Innovative Public Library Director Award recipient, and he served on NYLA's Public Libraries Section board from 2011 – 2016.
Margo Gustina, deputy director and trustee development consultant of the Southern Tier Library System, is a champion for intellectual freedom and social justice. She regularly presents on these topics throughout the greater New York library community. In addition to working with rural libraries on strategic planning and board development, Margo serves with co-presenter Brian Hildreth to secure sustainable funding for rural libraries. Her work with co-author Eli Guinnee, Why Social Justice in the Library?, was most recently featured in Library Journal, and she presently serves as NYLA's Public Libraries Section Treasurer and a Sustainability Initiative community change agent.  
Apr 2018
Apr 25 2018 : Red Flag! Identifying Preservation Needs While Processing Collections – Northern New York Library Network Office
Gaining intellectual control over collections is just one aspect of processing and cataloging. This workshop will focus on developing a system for identifying and prioritizing the collections care needs of items (objects, books, artworks, archival materials, etc.) during the accessioning, processing, and cataloging phases. Common degradation issues encountered in collections and methods for assessing condition will be discussed. This session will also present procedures for assigning conservation and housing priorities, and will suggest potential "red flags" to alert staff when a conservator should be consulted. Participants will have the opportunity to assess the condition of items in a study collection and assign conservation and housing priorities to each item using the procedures presented in the workshop.
Registration opens early 2018! More details to follow.
Presented by the Documentary Heritage and Preservation Services for New York (DHSPNY) program.
Archived Presentations
Please click here to view presentations from previous classes.