Upcoming Continuing Education Classes
These are webinar and traditional classes offered by the Network and other members of Empire State Library Network. Please see each class description for more information about class location and registration.
Apr 2018
Apr 25 2018 : Red Flag! Identifying Preservation Needs While Processing Collections – Northern New York Library Network Office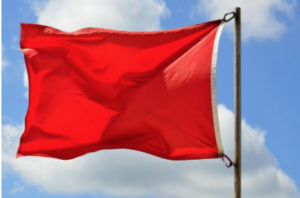 Gaining intellectual control over collections is just one aspect of processing and cataloging. This workshop will focus on developing a system for identifying and prioritizing the collections care needs of items (objects, books, artworks, archival materials, etc.) during the accessioning, processing, and cataloging phases. Common degradation issues encountered in collections and methods for assessing condition will be discussed. This session will also present procedures for assigning conservation and housing priorities and will suggest potential "red flags" to alert staff when a conservator should be consulted. Participants will have the opportunity to assess the condition of items in a study collection and assign conservation and housing priorities to each item using the procedures presented in the workshop.
Speaker: Amelia Parks, Archives Specialist, Documentary Heritage and Preservation Services for New York
Register at the DHPSNY website here: http://events.constantcontact.com/register/event?llr=ge5mzhyab&oeidk=a07ef2b5h03838cc6c9
---
Presented by the Documentary Heritage and Preservation Services for New York (DHSPNY) program.

May 2018
May 17 2018 Annual Meeting: NNYLN Annual Meeting – Hotel Saranac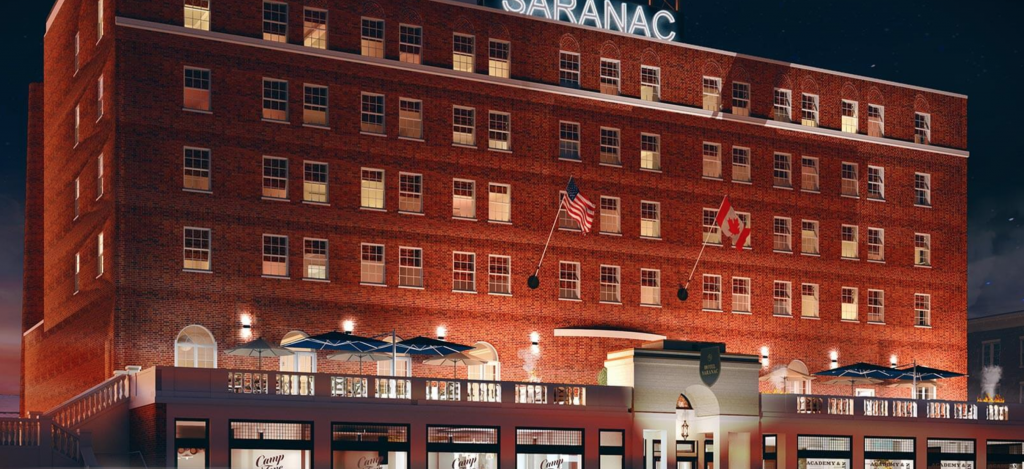 NNYLN welcomes you to its annual meeting held at the newly remodeled Hotel Saranac.
Join us for morning and afternoon presentations as well as a gourmet breakfast and lunch – register below.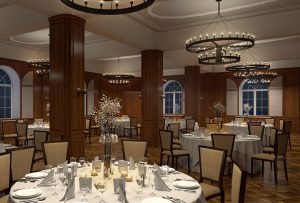 "Constructed at the height of the Roaring Twenties, Hotel Saranac was slated to become the foundation on which downtown Saranac Lake would anchor itself. All these years later, the renovated Hotel Saranac still draws inspiration from every corner of the Adirondack State Park and every inkling of nostalgia that the area exudes to curate the perfect event setting."
---
Morning Session: "Top Ten Questions for a Library Lawyer" with Stephanie 'Cole' Adams
Stephanie Adams, who staffs our "Ask The Lawyer" service, will present on some of the most asked questions of a library lawyer. We invite members to submit questions ahead of time to be considered for presentation as well – just email Christi who will pass them along!
Does your institution have a question for our lawyer?  Starting the evening prior on May 16th, Stephanie Adams, who staffs our "Ask The Lawyer" service, will be available for confidential consultations on issues impacting your institutions.  Just drop by, fill in a consultation form (notifying you of your rights when working with an attorney), and "Ask the Lawyer," in person!  Consultations limited to 30 minutes. Stephanie will also be available during the afternoon session for consultations as well!
About the presenter:

Attorney Stephanie "Cole" Adams, whose office represents creative professionals, staffs NNYLN's "Ask the Lawyer" service. A former in-house counsel at a university, Ms. Adams has litigated matters ranging from game design and architecture to intellectual property and construction. Admitted to practice in both state and federal court, she has significant experience with not-for-profit and grant-related issues. Ms. Adams approaches her work for libraries, museums, and archives with a holistic approach: what advice promotes access, learning, and her client's goals? A graduate of Hampshire College and SUNY Buffalo School of Law ('99), Ms. Adams was born and raised in Central New York, where she worked as a page, and then clerk, at the New Hartford Public Library. In addition to running the Law Office of Stephanie Adams, PLLC, on the West Side of Buffalo, she gardens, bikes, and studies stonework and German longsword. Ms. Adam believes libraries are critical social assets, and librarians are the keepers of culture. Read more about her on her website or her blog.
---
Afternoon Session: Developing a Mascot: Giving Your Library a New Personality
Join us for an exciting presentation on how Henrietta Public Library uses their dinosaur mascot to keep library users engaged on social media and IRL.  Leave with concrete ideas and tips on how to develop a mascot who embodies your brand personality. Special celebrity guest appearance by TR himself.
About the presenters:

Jen Barth is the adult services librarian at the Henrietta Public Library. In her role, Jen enjoys helping people with technology, dismantling the Dewey decimal system, and learning something new each day. As a young child, Jen attended SU basketball games with her family where she secretly aspired to live a life as awesome as Otto the Orange. Today, her mascot dreams are a reality thanks to TR Henri.

In her role as a children's librarian at the Henrietta Public Library, Laura Lintz delights in leading storytimes, awkwardly writing her own biography, and taking pictures of plastic and real dinosaurs.  Before returning to her native Rochester, Laura managed the Edith M. Fox library in Arlington, Massachusetts.

TR Henri is several million years old, but doesn't look a day over 29. His interests include kiteboarding, French cuisine, and chomping all sorts of things for both fun and sport.  He loves his role as the Henrietta Public Library mascot and can't wait to see where it takes him next.
---
extra space for break
Jun 2018
Jun 4 2018 : Team Building Workshop with Ron Kirsop and Amanda Travis – Northern New York Library Network Office
A team is a cohesive group of people designed to work together to meet the needs of their community through focusing on shared priorities and goals. Help your team recognize the advantages of cooperation over competition, improve group confidence, and appreciate individual strengths and weaknesses. These sessions will be led by Ron Kirsop, Assistant Director of the Pioneer Library System and Amanda Travis Coordinator for Member Services from the Onondaga County Public Library System. Participants will engage in several team building activities and discuss team theory to help increase appreciation of roles and team expectations. Team sessions will run for 90 minutes accommodating a maximum of 4 teams of 4-10 members each.
Outcomes:
Participate in and learn team building activities to bring back to your library.
Discuss areas of theory that apply to building large and small teams.
Review existing team dynamics, issues, and behaviors.
Develop creative problem-solving and time management skills.
Team Session Times:
8:30 – 10:00 am
10:15 – 11:45 am
1:00 – 2:30 pm
2:45 – 4:15 pm
After registering your team, click here to sign up for a Team Session Time: http://signup.com/go/hsLwdHC
A minimum of 3 participating teams is required for the event to take place. NNYLN reserves the right to cancel the event if fewer than 3 participating teams have registered 7 days prior to the event.
In case of cancellation of the event, registered participants will be alerted in writing via the email address provided 7 days prior to the event.
By registering, the participant gives their written consent to a publication of any pictures taken on the occasion of the event.
Jun 22 2018 : Preparing for the Unknown: Creating a Library Safety and Preparedness Team with Ben Hogben – Northern New York Library Network Office

The world in which we live and work has changed. It is important to be aware of our surroundings and prepare for unexpected events. This workshop will focus on creating a Library Safety and Preparedness Team. Also included will be the types of emergencies that may face libraries, patron behavior and the importance of preplanning for emergencies. Light refreshments and lunch included – please register below.
__________________________
About the presenter: Ben Hogben is the Access Services Manager for the Ithaca College Library where he supervises thirty-eight student employees and four full-time staff members. Ben has a BA from Ithaca College and training that includes employee and student coaching, and MBTI certification. Ben spent twenty-five years in the volunteer fire service, where he held the positions of Fire Chief, Deputy Fire Chief, and Training Officer.
Aug 2018
Aug 10 2018 : What the Health? Information Resources for Librarians – Northern New York Library Network Office
Activate, Collaborate, and Educate: Health Outreach and Programming in Your Community (10:00 AM – 11:30 AM)
This course will provide an overview of ideas to conduct health outreach and create health programs for libraries and community/faith-based organizations. Participants will learn how to integrate resources from the National Library of Medicine (NLM) and other reputable agencies to introduce community members to NLM resources in fun and engaging ways. Examples of programs for children, teens, adults, and seniors using NLM and other National Institutes of Health center and office resources will be shared.
This presentation provides an overview of planning health programs for organizations incorporating resources from the National Library of Medicine.
By the end of the session participants will be able to:
Locate county-level information on health needs within their community
Locate relevant NLM consumer health resources for specific target populations
Identify organizations for health outreach partnerships
Outline a potential health outreach or health program for their organization
PubMed and Beyond: Clinical Resources from the National Library of Medicine (12:00 PM – 1:30 PM)
Taught by an experienced medical librarian, this presentation will introduce principles of evidence-based practice and free health information resources for all librarians. Resources presented will include Clinical Queries in PubMed and free drug, patient education, and evidence-based information from the National Library of Medicine.
By the end of the session participants will be able to:
Find patient education information using MedlinePlus and Genetics Home Reference
Access drug information using Drug Information Portal
Find clinical trials by condition and limit to those with results in ClinicalTrials.gov
Find clinical practice guidelines
Find systematic reviews in PubMed Health and PubMed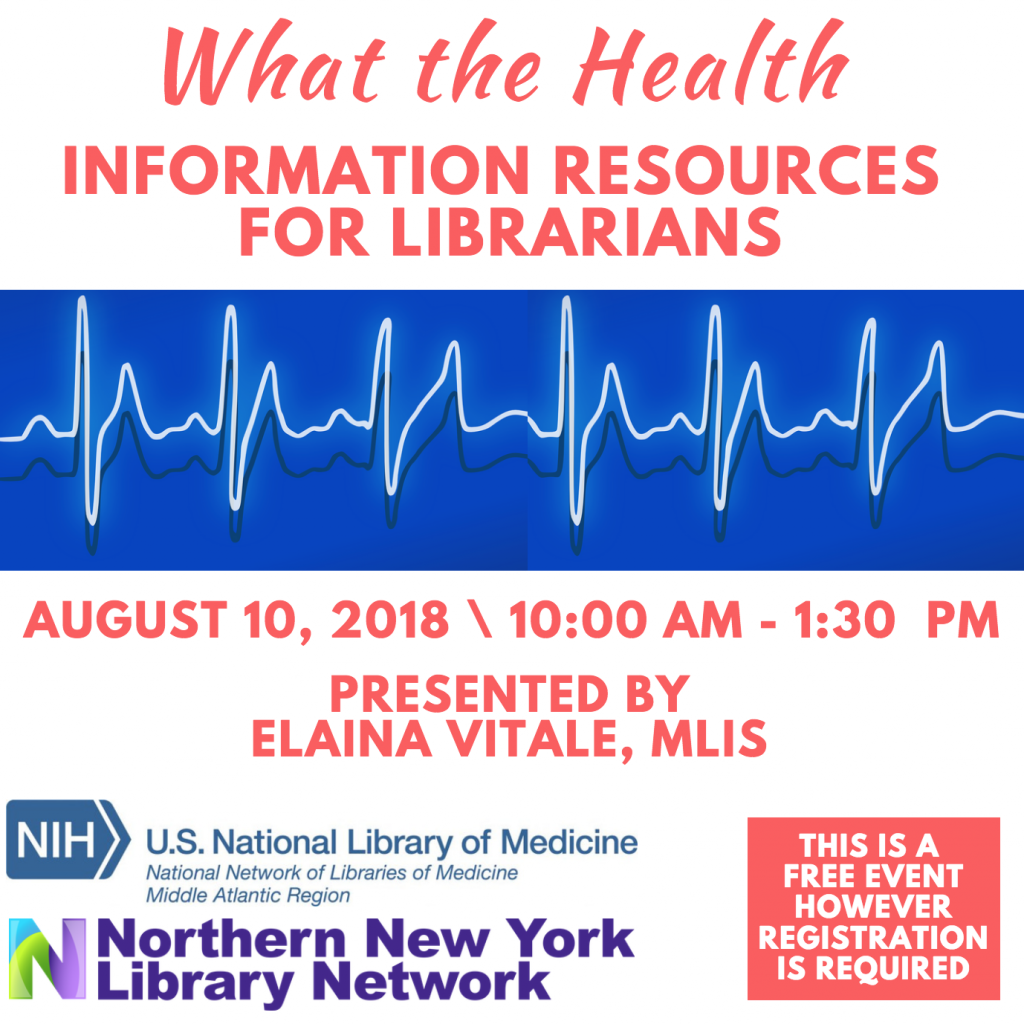 About the speaker:
Elaina Vitale, MLIS, is the Academic Coordinator for the National Network of Libraries of Medicine, Middle Atlantic Region. Based in Pittsburgh, PA, Elaina provides outreach, training, and support for academic and health sciences librarians in DE, NJ, NY, and PA. Elaina is particularly interested in community outreach, health programming, and citizen science.
This is a free event, however, we do require registration.
Refreshments and lunch will be provided.
Archived Presentations
Please click here to view presentations from previous classes.