As schools across the North Country reopen this fall, be sure to update your library's lending status on DueNorth.
If you manage this on your own for your library, check your library's status by clicking "Manage Library Profile" located under "Library Staff" in the left side menu.

If your status is set to "No", you are all set and ready to receive ILL requests within DueNorth.
If your status is set to "Yes", and your library is now open and able to lend materials, click the drop-down menu and select "No". Then click on the "Save" button located at the bottom of the library profile page.
Systems staff are able to update this status for all libraries at once.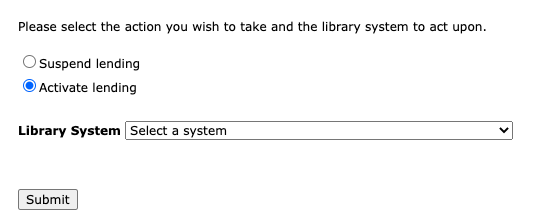 To do so, click "Manage libraries" located under "System Staff" in the left side menu.
Next click "Mass suspend or activate library lending".
On the next page, you can check the appropriate action, "Suspend lending" or "Activate lending" then select your library system.
Finally, click the "Submit" button at the bottom.
It is also important to make sure that user and library information is current and up-to-date.
Library profiles should have current information including Library ILL Emails. If there is more than one email, list each with no spaces separated by a semi-colon.
For example:
staff@library.org;ill@library.org
System staff can check all users and libraries within their system by clicking "Manage libraries" or "Manage users". Profiles for each can be edited by clicking "Edit" in the far right "Action" column.
If you need any assistance, please reach out to us at the Network.
Happy lending and all the best on the year ahead!
 ___
Featured image: Kildare School, Photo of students and teachers posing outside school at Kildare near lumber station for Oval Wood Dish (OWD) Company.
1920, retrieved from https://nyheritage.contentdm.oclc.org/digital/collection/tupper/id/11322/rec/13.