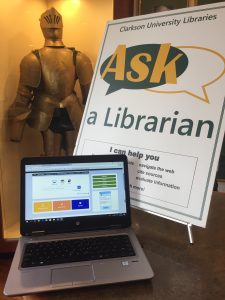 The libraries at Clarkson University in Potsdam, NY are embracing a new model of reference: the reference desk as a mobile service point that takes the librarians all over campus. Our new "Ask a Librarian" program is a venture to meet our users closer to their point of need, and it's working.  
Over the summer, Clarkson University began a renovation process that will completely change the building where the library is housed. Although the library is still functioning at full capacity, the beginning stages of renovation are already having an impact on the ways students interact with library space. Seeing the potential for a gap in reference services, the staff decided to implement a new program, our "Ask a Librarian" roaming reference service.
The idea is simple. If our patrons can't come to us (for a variety of reasons) then we'll go to them. The hours that we would normally staff a reference desk within the library are now devoted to traveling around campus with a laptop and a some signage indicating the services we offer.
While the program is still relatively new, it is already a success. Students, faculty, and staff all stop by to ask about what we are doing. These impromptu conversations are great marketing opportunities for the library. Often patrons walking by will have brief questions they admit they would not have asked if they did not see us. The service is facilitating interactions that we would have missed by sticking with the previous reference model. It is also allowing us to build better relationships with our patrons by interacting with them more often outside of the library.
It is a common theme across many libraries that patrons are not interacting with  traditional reference services as much as library staff would like. At Clarkson University, we are changing that by bringing our reference desk to them. Please contact us with any questions or for more information! refdesk@clarkson.edu.
About the author: Amber Amidon is the Public Services Librarian for Graduate Education at Clarkson University in Potsdam, NY.
Interested in participating in the Member Profile series? Email the Network.