Date/Time
Date(s) - Aug 10 2018
10:00 am - 1:30 pm
Location
Northern New York Library Network Office
Categories
Activate, Collaborate, and Educate: Health Outreach and Programming in Your Community (10:00 AM – 11:30 AM)
This course will provide an overview of ideas to conduct health outreach and create health programs for libraries and community/faith-based organizations. Participants will learn how to integrate resources from the National Library of Medicine (NLM) and other reputable agencies to introduce community members to NLM resources in fun and engaging ways. Examples of programs for children, teens, adults, and seniors using NLM and other National Institutes of Health center and office resources will be shared.
This presentation provides an overview of planning health programs for organizations incorporating resources from the National Library of Medicine.
By the end of the session participants will be able to:
Locate county-level information on health needs within their community
Locate relevant NLM consumer health resources for specific target populations
Identify organizations for health outreach partnerships
Outline a potential health outreach or health program for their organization
PubMed and Beyond: Clinical Resources from the National Library of Medicine (12:00 PM – 1:30 PM)
Taught by an experienced medical librarian, this presentation will introduce principles of evidence-based practice and free health information resources for all librarians. Resources presented will include Clinical Queries in PubMed and free drug, patient education, and evidence-based information from the National Library of Medicine.
By the end of the session participants will be able to:
Find patient education information using MedlinePlus and Genetics Home Reference
Access drug information using Drug Information Portal
Find clinical trials by condition and limit to those with results in ClinicalTrials.gov
Find clinical practice guidelines
Find systematic reviews in PubMed Health and PubMed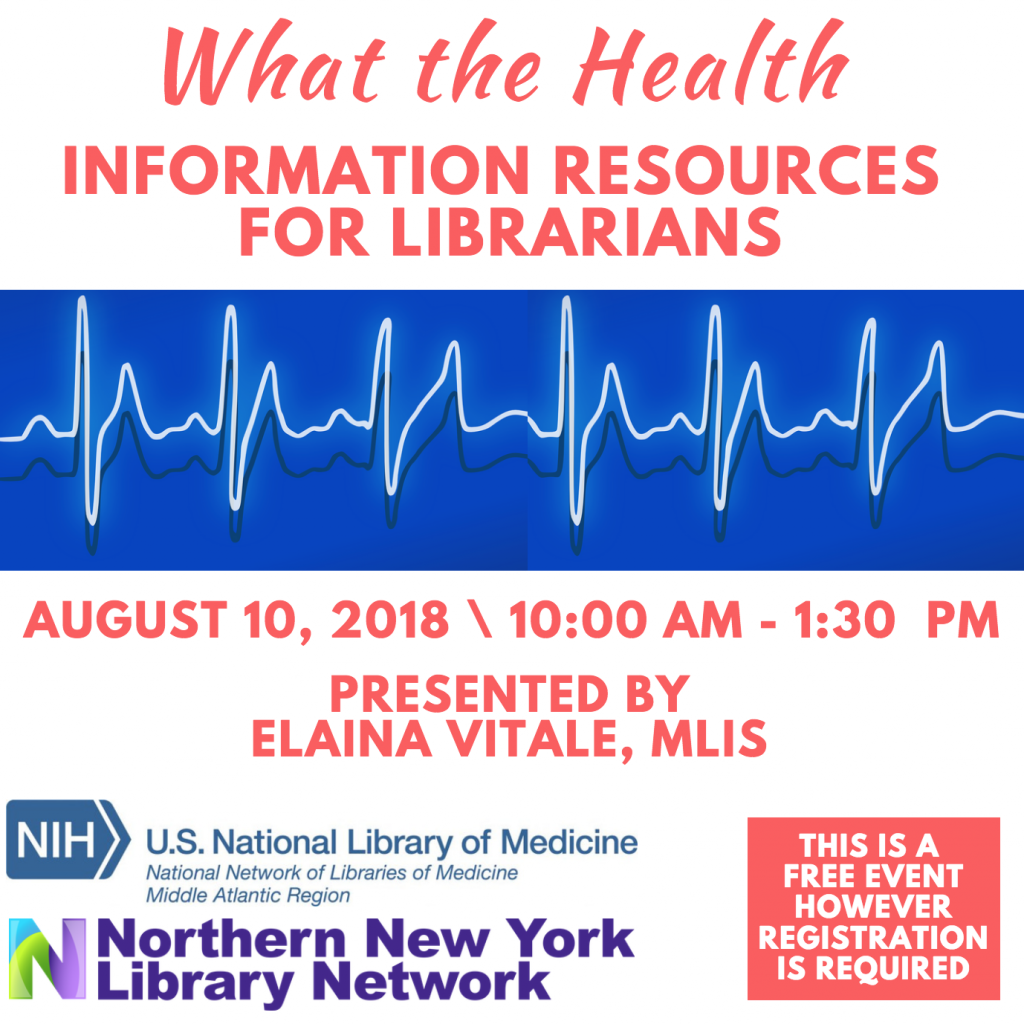 About the speaker:
Elaina Vitale, MLIS, is the Academic Coordinator for the National Network of Libraries of Medicine, Middle Atlantic Region. Based in Pittsburgh, PA, Elaina provides outreach, training, and support for academic and health sciences librarians in DE, NJ, NY, and PA. Elaina is particularly interested in community outreach, health programming, and citizen science.
This is a free event, however, we do require registration.
Refreshments and lunch will be provided.
Registration