Map Unavailable
Date/Time
Date(s) - Mar 26 2019
9:30 am - 2:30 pm
Location
Jefferson Community College
Categories
The Northern NY Library Network's HS to College Interest Group is pleased to offer this half-day workshop for educators with a vested interest in the high school to college transition. Registration is being hosted via MyLearningPlan at the Jefferson-Lewis BOCES.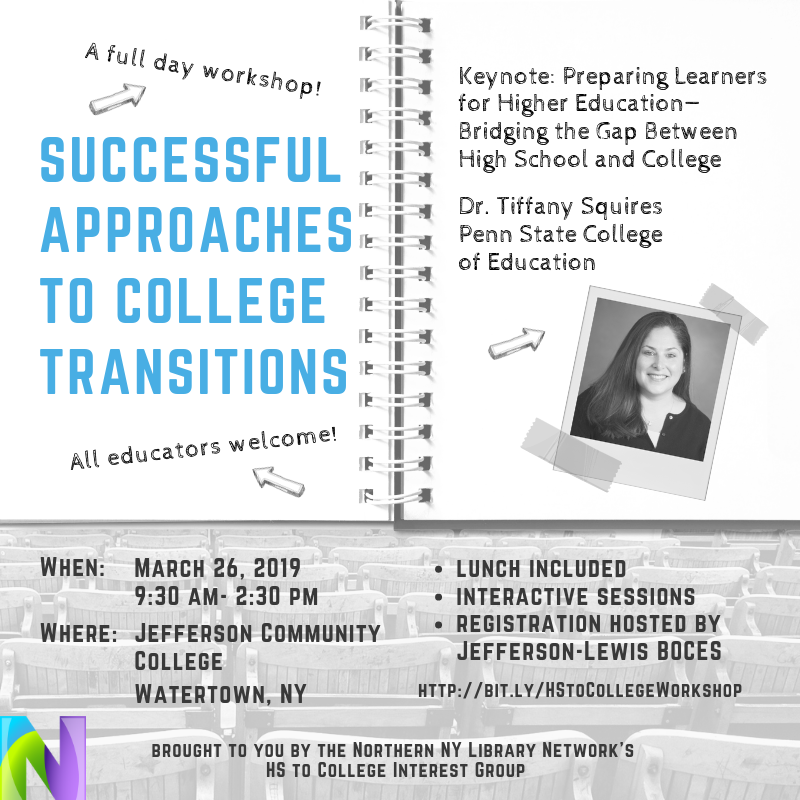 Keynote: Preparing Learners for Higher Education—Bridging the Gap Between High School and College
Research supports a consistently strong relationship between academic preparation and college readiness. Consequently, the role of high school educators in preparing students for college is especially significant with regard to their transition during the first year. 
This session is intended to help secondary educators better understand the various academic, social, psychological, and physical needs of students in preparing for that transition from high school to college. In this session, we will discuss research related to college readiness, information relevant for instructional leaders specific to addressing readiness needs and preparing students for the transition to college, and programs that partner high schools with colleges to address readiness needs. 
Participants will gain increased awareness for the stresses students face from pressures related to college transition and what readiness looks like, as well as gaps that may exist between high school education and college demands.
The program includes lunch as well as:
Reactionary Panel

Panel includes Carleen Huxley (Jefferson Community College), 

Michelle Bishop (SUNY Oswego), Melissa Balk (Thousand Islands High School), Katie Varga (Thousand Islands High School), and a student representative.

Breakout Sessions

Project Based Learning – Michelle Oakes

Copyright – Ginger Tebo

Digital Research Class – Melissa Balk

Show & Tell

Attendees are invited to share their tips and tricks including programs, applications, or software that have been successful in the classroom.
Registration deadline is March 12, 2019. There is no charge to attend. A minimum registration of 15 participants required.