Date/Time
Date(s) - Aug 31 2018
10:30 am - 2:00 pm
Location
Northern New York Library Network Office
Categories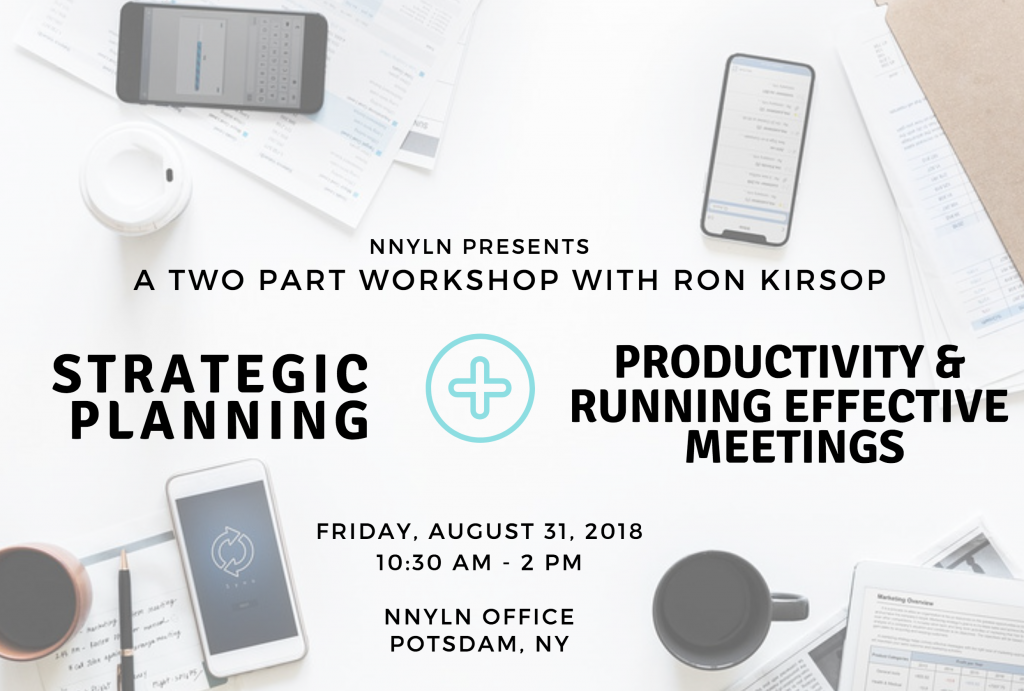 Description:
Program One: Strategic Planning (10:30 am – 12:00 pm)
This presentation will discuss the specific elements of setting up an active planning project and the activities required to create a flexible document that emphasizes actionable pathways for decision making, community involvement, and funding priorities. Specific planning activities discussed will include aspiration-oriented community conversations, simple community questionnaires, and interviews with key stakeholders. Participants will gain insight in initializing and carrying out a planning process in a cost-effective and timely manner.
Program Two: Productivity & Running Effective Meetings (12:30 pm – 2:00 pm)
Our personal productivity is in a constant state of exhaustion due to the endless tasks, email messages, and meetings we manage on a day-to-day basis. This presentation aims to reset our overwhelmed productivity systems by discussing specific methods, tools, and systems that focus on setting priorities, creating action plans, and establishing a habitual review process. This presentation will also touch on creating effective meetings through planned organization and communication by focusing on clear objectives and productive outcomes.
About the speaker: Ron Kirsop is the Assistant Director of the Pioneer Library System, a cooperative system in western New York serving 42 small and rural libraries. Ron primarily focuses on trustee education, strategic planning, survey development, user experience, customer service, and team building.
Refreshments and lunch included.
Registration