Map Unavailable
Date/Time
Date(s) - Mar 24 2021
2:00 pm - 3:00 pm
Categories
Description: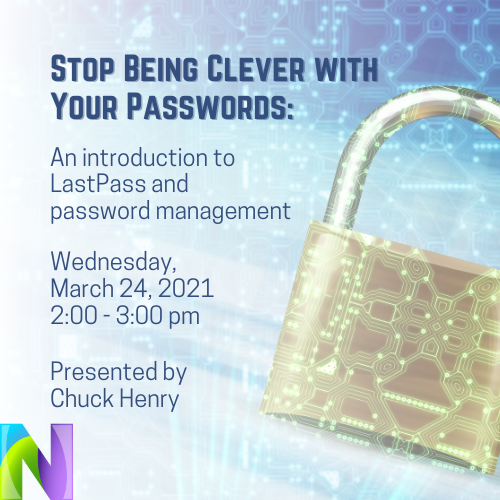 The biggest threat to your online accounts is you!
Most people have more than 15 online accounts.
That's just too many passwords to remember!
What's a good netizen to do?
Come up with a clever way to remember those passwords, of course! So that'd be 'p@55w0rd!23', right? STOP! You're not that clever. The best way to protect your online accounts is to remove the weakest security link: you.
This session will discuss why you're a security weakness, how password managers can help, and the basics of the password manager LastPass.
The presentation will be about 45 minutes long followed by Q&A time.
About the presenter:
Chuck Henry is the Integrated Technologies Coordinator at the Northern New York Library Network.  A former NYS certified teacher, Chuck routinely provides professional development and software training to teachers, librarians and administrators in the North Country region.  As Technical Project Lead, he manages the newspaper digitization process, provides server maintenance, and web development for the NYS Historic Newspaper Project. Chuck also serves as primary web developer for the newly redesigned NY Heritage.