Date/Time
Date(s) - Sep 13 2018
9:00 am - 12:00 pm
Location
Northern New York Library Network Office
Categories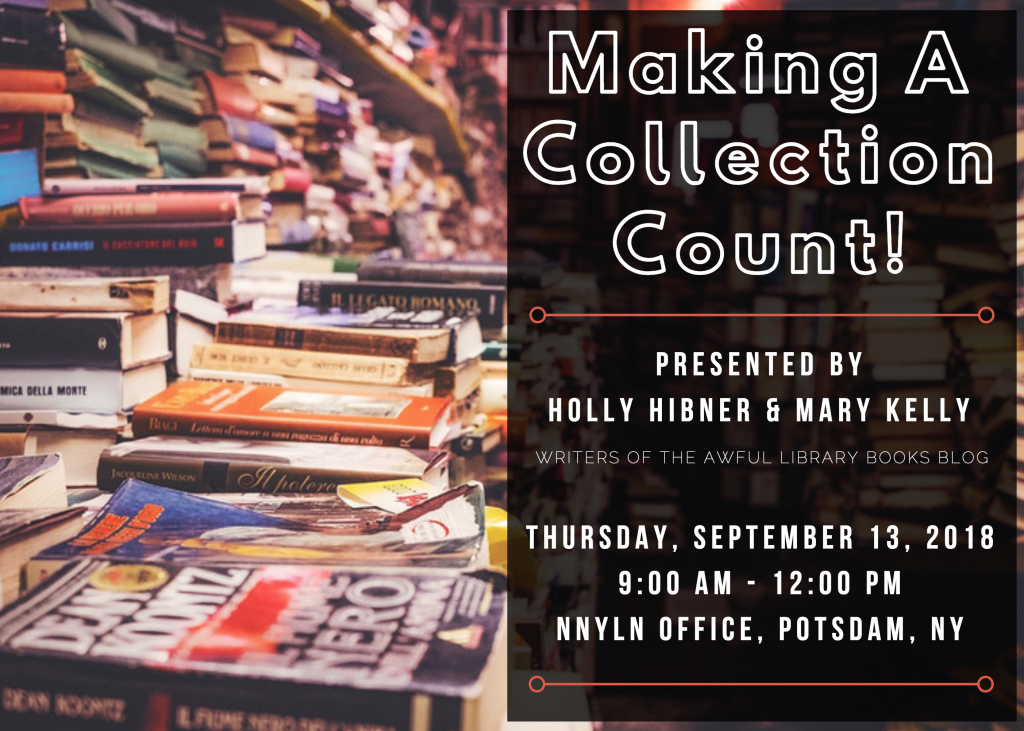 Description:
Make your collection count! This session talks about the overall quality of a library collection. This includes analyzing collection procedures, metrics, and the life cycle of a collection.
We will also discuss how to "weed smart" by creating a weeding plan that staff and patrons will buy into, including ways to dispose of weeded materials properly and respectfully.
Our holistic approach to collection management will help all types and sizes of libraries to keep pace with the demands and expectations of their communities.
Attendees are invited to bring weeding policies and material for review. If possible, please email policies to Christi by September 6, 2018.
About the speakers:
Holly Hibner is the Adult Services Coordinator at the Plymouth District Library in Plymouth, Michigan. She has a mild obsession with weeding (ok, maybe not so mild), and can often be found in the stacks taking inventory. She also loves all things techie and the challenge of a good reference question. Holly is riding high and pulling all the glory out of her term as a Councilor-at-Large for the American Library Association.
Mary Kelly is the Digital Services and Emerging Technologies Librarian at the Plymouth District Library in Plymouth, Michigan. This fancy title means you will find her pouring through Overdrive reports, database renewals, and enlightening the masses in computer classes. Mary is also working on harnessing all the power of her role as the library's webmaster (aka World Domination).
For street cred, Holly and Mary have co-authored several books, such as "Making a Collection Count" and "Taking Your Library Career to the Next Level." Reading them will surely change your life, so interlibrary loan a copy today! They are also co-authors of the popular blog "Awful Library Books."
Registration is required. Free to NNYLN & ESLN members.
We are planning a continental breakfast beginning at 8:45 am including assorted fruit, coffee, tea, and water. Please alert us to any food allergies prior to the program.
Registration