Date/Time
Date(s) - Jul 24 2018
8:30 am - 3:00 pm
Location
Paul Smith's College
Categories
The library planning workshop allows public library supporters, librarians, educators, and architects to share in best practices in planning and design.  The workshop will assist in the development of library spaces for public libraries and other research organizations. Breakfast and lunch included. Breakfast and registration will begin at 8:30 am.
Segment 1: Workshop Introduction

The library can be seen as a physical and virtual learning environment, a network that in development faces six primary challenges:

User

Collection

Staff

Technology

Facilities

Funding

Each of these 6 challenges offers a potential for growth and change as they relate to each other. During this workshop, we will address a series of real case studies to illustrate how to develop a Needs Assessment and Service Strategies Program.  Participants will learn how to develop a set of service priorities concept(s). This segment will be instrumental in outlining the tasks and skills required to properly program the library for future use.
Other Segments include:
Segment 2: User Behavior and Needs Assessment

Segment 3: Services, Collections, and Technology

Segment 4: Building Program, Library Standards, Future Needs

Segment 4: Public Library Program Examples and Library Space Planning Case Studies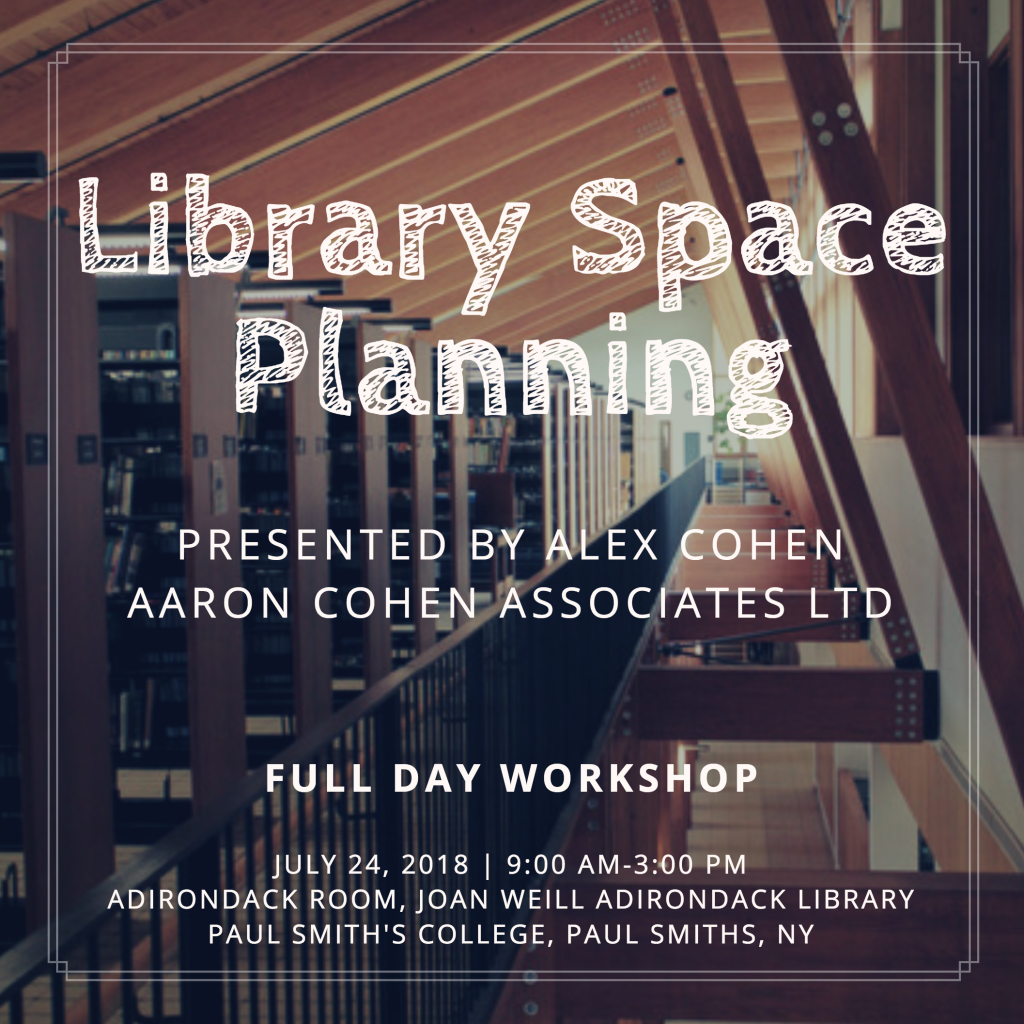 About the Presenter:

Alexander Cohen, MLS
As a Librarian and Principal at Aaron Cohen Associates (ACA), Alex Cohen heads a library-consulting firm with over 45 years of experience working with all types of libraries and research environments. His expertise includes digital asset management; space-planning assessments; service analysis; efficiency studies; needs assessments; special collection/archives planning; new builds and renovations of existing libraries; system planning and worldwide library consulting.
Alex's goal is to ensure that user needs are better met, through service innovations and changes to functions, collections and physical space. As a consultant, he works with existing library staff to understand the way they are doing things now, listen to their aspirations for the future, and provide expert evaluation, critique, and recommendations of how to achieve those aspirations. The outcome of his work then informs the interior design of the space.
Alex has worked with a variety of libraries, both large and small. His past clients include Stanford University; the Smithsonian Museum; the Woodstock Public Library; and the National Library of Greece. He is currently at work on the new Central Library in Dubai.
Experience:
2000-2018 – Library Consultant Aaron Cohen Associates, LTD, NY
1998-2000 – USWeb/CKS, Global London & San Francisco
1997-1998 – IS Solutions, UK
1995-1997 – Red Dot Interactive, SF
Aaron Cohen Associates LTD (ACA) is a library service planning and architectural consulting firm that has been in business for over 46 years.
---
This event is free for all NNYLN and ESLN members and affiliates of members.
NNYLN is a member of the Empire State Library Network (ESLN).
Registration
This event is fully booked.