Date/Time
Date(s) - Jun 14 2019
9:00 am - 4:00 pm
Location
Northern New York Library Network Office
Categories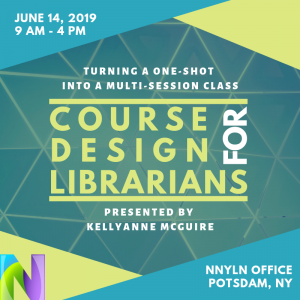 Description:
We all know that workshops and one-shots have varying degrees of success meeting students' information literacy needs. Attendance, student engagement, and faculty buy-in are all impediments to success. What if you could turn your ideas into a multi-session course, giving you control of the curriculum and learning outcomes?
During this day-long workshop intended for academic librarians, participants will take a topic they are interested in and turn it into a multi-session course. In the morning we will focus on course development, including determining learning outcomes and scaffolding assignments. In the afternoon we will focus on pedagogy, including creating lesson plans and leading a class session. We will also brainstorm ways to adapt this model to individual environments (based on needs, resources, staffing strengths/limitations, etc.).
This workshop is hands-on. Participants are asked to come with an idea for a class in mind (for example: What is something you are interested in teaching more in-depth? What skill do faculty say students lack? What topic would add to your school's curriculum?), as well as an internet-enabled device for independent and group work (laptop, tablet, etc.).
Outcomes:
Participants will come away with a rough syllabus for a multi-session course, a few lesson plans/assignments geared towards their topic, and an understanding of how to facilitate class sessions.
Light refreshments in the morning and lunch included. Please use the comment box to relay any food sensitivities or preferences.
Bio:
KellyAnne McGuire is the Outreach Librarian at the Alumni Library at Bard College at Simon's Rock in Great Barrington, MA. She has worked and volunteered at public, high school, and academic libraries in NY and MA. She has taught classes at the high school and undergraduate level both in-person and online, as well as numerous workshops for patrons of all ages. Most recently, she helped develop an information studies curriculum at Simon's Rock consisting of ten, one-credit, half-semester (seven-week) courses taught by librarians that provide opportunities for students to develop metaliteracy and resilience within academia and beyond. KellyAnne has a BA from Mount Holyoke College, and a MSLIS from the University of Illinois at Urbana-Champaign.
Registration
Registration is closed for this event.